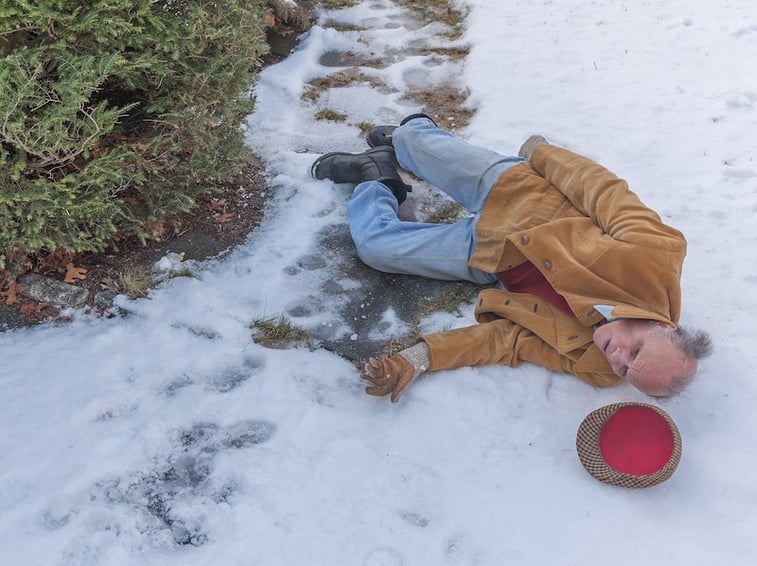 Liability claims related to improper removal of snow and ice are frequent, and in many cases, severe. Many of the claims originate from elderly people sustaining injuries from slips and falls from which they never fully recover. In other words … BIG CLAIMS!
The following information applies to manufacturing operations, building owners, and/or property managers with parking lots, sidewalks, and/or pedestrian ways that need to be cleared of snow and ice. Here are a few things to keep in mind:
Snow removal is the responsibility of the landlord and it's a critical exposure.

The most expensive claims for landlords/property managers come from slip and fall accidents that occur on snow or ice as a result of ineffective removal.

A key risk management step is transferring this risk to a contractor when obtaining snow/ice removal services.
Risk mitigation steps to take:
Seek a reputable contractor that has well-kept and properly maintained snow removal equipment.
Choose a contractor with a strong safety record.
Have a written agreement that contains scope of work, insurance requirements, and hold harmless indemnity provisions.
Obtain proper evidence of insurance (this would include a Certificate(s) of Insurance as well as copies of necessary endorsements that evidence required insurance coverage extensions as well as the nature of operations).
Regardless of the size or scope of the job, you, as a landlord or property manager, want to make absolutely certain the contract contains insurance requirements that stipulate the contractor procure, at their own cost and expense, and maintain for the life of the agreement with you, necessary insurance coverage to defend and indemnify you in the event of a claim due to their negligence.
The required insurance coverage must include general liability coverage, automobile liability coverage and workers' compensation coverage.
Furthermore, you'll need to be an Additional Insured with respect to any liability arising out of the contractor's services and confirm that the contractor's policy provides full contractual liability to support an indemnification provision in the Owner's favor for liability arising out of such services.
Lastly, your name and address is to appear in all Certificate Holder sections on ALL Certificates issued. Full disclosure of the Insurance Requirements must be made at the bidding/contract negotiation stage.
Before the contractor performs any work, you will have to obtain and review the Certificate(s) of Insurance and any supplemental documents (an example of supplemental documents is the Additional Insured Endorsement). Be sure it provides evidence of each coverage noted above and specifically states the snow and ice removal services being provided are covered. In many cases, summer contractors do snow removal as a seasonal engagement, without providing notice to their carrier. The contractors' insurance agent normally issues the Certificate, and his name and phone number will appear on it.
Furthermore, you must also be cognizant of the ability for the insurer or insured to cancel their coverage. You should require that all policies not be cancelled, terminated or modified by the company unless 30 days (minimum) prior written notice is given to you. This is usually evidenced on the Certificate of Insurance. If you receive such notice, do not let the contractor enter your premises until replacement coverage is provided with all the provisions noted above.
It's also recommended that upon receipt of a Certificate of Insurance, you contact the issuing broker and ask them to confirm, in writing (email is acceptable) that all the coverage noted on the certificate is correct.
An example
Would you like to be on the hook for this?
You are the owner/property manager of an upscale mall. A customer slips and falls on ice covered steps and suffers a broken ankle that requires open reduction and fixation. The customer is a businesswoman with a family.
In addition to $40,000 in medical expenses and $35,000 in lost wages, the family required the services of domestic help to compensate for the loss of services of the working mother. These costs amounted to $17,500 over the five months the customer was injured. In legal terms, the injured customer has "specials" (referring to actual out of pocket expenses) of $92,500. In addition, the permanent disability suffered as a result of the severe fracture, pain and suffering and the family's "loss of services" and you are looking at a claim worth upwards of $350,000.
By having the proper indemnity, hold harmless language as well as necessary insurance coverage in your agreement with the contractor, you are better able to protect the assets of your company against claims arising out of accidents involving snow and ice removal, by transferring the exposure to the contractor providing the service.