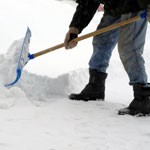 Winter will soon be upon us, whether we're prepared or not. We've shared this article about the dangers of improper snow removal for property owners in the past, but as one of the realities of living and doing business in the Northeast, an annual reminder doesn't hurt.
In the article, we advise property owners on ways to close gaps in coverage by taking a proactive approach to risk transfer as it relates to snow removal and hiring a snow removal contractor.
We also have a sample snow removal contract available with suggested language for appropriately transferring risk from the property owner. To request a copy of the sample contract, please fill out the form here or at the end of the article.
If you'd like to discuss your specific snow removal risk exposure and mitigation, please reach out to The ALS Group at 732.395.4250 or info@thealsgroup.com.